Our Location

From bluebonnets and our historic downtown to the revitalization of our entire community, Ennis in itself is a prime destination for tourism and the perfect location for business, but when you add the fact that we are only 35 miles away from the ninth largest city in America, it is no wonder that Ennis is claiming the attention of new businesses, corporations and families across the state and the country.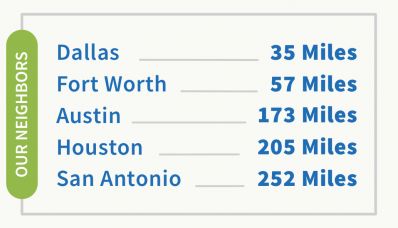 Key advantages of having Dallas, as well as Fort Worth, within such close proximity include access to an extensive workforce pool, a strong transportation network, leading-edge healthcare and world-class arts, entertainment and major league sports. Plus, many families prefer the opportunity to live in a city with small-town charm, a vibrant lifestyle, just a short drive away from the Metroplex.

Ennis is the third largest city in Texas' Ellis County and is located just off Interstate 45, south of the Dallas-Fort Worth area and only 15 miles east of Interstate 35, making for an easy half-day drive or less to Texas' major cities.
Transportation
Ennis is a transportation "sweet spot," providing industry partners with easy intermodal access for shipping and transporting supplies, cargo and freight to customers from across the street to around the world.
Roadways
Ennis is accessible by Interstates 20, 30, 35 and 45, and all within a 30-minute drive. Plus, multiple trucking centers can be found in and around Ennis.

Airports
Locally, the Ennis Municipal Airport is a VOR/DME-A instrument airport for "all-weather" general aviation operations and features a 4,000-foot asphalt solid-surface runway with 100LL Jet-A fuel service onsite.
Dallas-Fort Worth International Airport and Love Field Regional Airport, less than an hour away, offer extensive flights for cargo and passengers daily.
Rail
Ennis is also served by the Union Pacific Railroad. The main freight line connects to commercial and industrial sites north and south of town.
The Dallas Logistics Hub, featuring the Union Pacific Intermodal Terminal, is less than 20 miles from Ennis, just off Interstate 45.
Deep-Water Ports
The Port of Houston is 215 miles from Ennis via Interstate 45.