Quality healthcare in Ennis is locally accessible through family and specialty clinics and practices dealing in a range of fields, including Internal, Sports, Pediatric and Geriatric Medicine, as well as Cardiology, Orthopedics, Urology and Pulmonology. For regional healthcare options, the Dallas Metroplex offers an extensive array of hospital and research facilities that can only be found in a major metropolitan.
Only 50 hospitals out of 557 Inpatient Prospective Payment System (IPPS or Acute Care) Hospitals and 188 Critical Access Hospitals (CAH), earned the TMF Hospital Quality Improvement Silver Award- and Ennis Regional Medical Center is one of them.

Ennis Regional Medical Center
Award-winning Ennis Regional Medical Center is a 60-bed acute care facility/community hospital on a 25-acre campus with 102,000 square feet. Its Emergency Department is Level IV Trauma, and ERMC's caring team of medical professionals serve the diverse medical needs of the residents of Ennis and Ellis County with a network of services.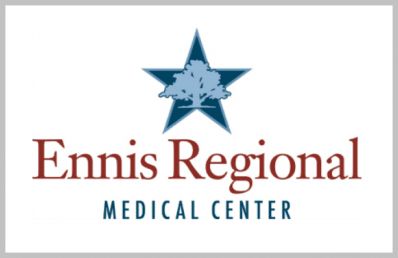 Additional ERMC Featured Services:
Cardiac Rehabilitation
Stress Testing
Chest Pain Center
Echocardiogram
EKG
Emergency Department (Level IV Trauma)
ICU Services
Imaging (X-Ray, CT, MRI, Ultrasound, Mammography)
Laboratory Services
Medical/ Surgical Inpatient Services
Medical Detox Stabilization Services
Orthopedics / Sports Medicine
Rehabilitation Services
ERMC is accredited as a Chest Pain Center by the American College of Cardiology and is the 2018 winner of the TMF Hospital Quality Improvement Silver Award. The award program recognizes hospitals in a four-state area (Arkansas, Missouri, Oklahoma and Texas) that have improved outcomes in patient care performance based on specific national quality measures.